A journey of a thousand miles begins with a single step
Chinese proverb
In Mai of 1891, the construction of the World's longest and most difficult to build railway was started after years of controversy amongst the Czars: the Trans-Siberian railroad. The link between Moscow and Vladivostok, some 6000 miles apart, was completed 14 years later employing a labour force of over 90000. Ever since the rail service linking Europe with the Far East was established at the turn of last century, foreign travellers and adventurers have been fascinated by this great journey and crossed Siberia to reach the Pacific or China. Across the Ural mountains to Siberia, through towns that were built along the rails into the Mongolian steps and Gobi desert, the Trans-Siberian journey offers a great opportunity to experience an unforgettable journey. The Russian tourist office describes the Trans-Siberian journey as a mythic experience.
The guided tour on the train (a regular working service, not some 'tourist special' train) and many visits to our friends at each stop guarantees this journey to be unique. We will meet local people and learn about their culture and way of life, yet be part of it. You may find yourself draining a bottle of vodka with a Russian soldier in exchange to a piece of chocolate, or discussing business and politics with Mongolian traders on the train. Meeting point on the train is the dining car where borscht and fish with lots of potatoes and cabbage is served. On each station where the train stops, local peasants and traders offer their products for sale.
We invite you to join our small group: First station is Moscow, where we enjoy the life a city transformed to capitalism before boarding the Trans-Siberian train and passing by the Ural. Our stops are Yekatarinburg, home of the Russian czars, and Irkutsk, the capital of Siberia, where we will spend a few days on the world's largest and cleanest lake ('Baikal'). Then we will continue to Ulan Bator, where we will experience the Nomadic life and sleep in gers, and finally the train will take us to Beijing, the capital of the Chinese empire, where our journey ends.
---
Information
This journey will be guided by Dr. Marco Ziegler and Petra Camathias from Zurich, the founders of the organizing company Ziegler & Partner GmbH. They have both successfully guided tours in 1995/1996/1998 and are intimates of the Russian culture and language. Both have travelled, lived and worked extensively in Russia. Natives of Switzerland, they both are fluent in German, French, English, Russian and some other languages.
In Moscow, Yekatarinburg, Irkutsk, Ulan Bator and Beijing, we will have local guides and friends to ensure that everything works out. Join us on this unique tour !
You may also contact the guides and participants of our past journeys for more information or some personal experience:
See some enthousiastic comments and feedback from participants
---
Group in 1995
(Train)
Group in 1998
(Red Square)
Group in 1999
(Zagorsk)
Group in 2000
(lake Baikal)
Group in 2001
(lake Baikal)
Program 2003
(subject to modifications)
Sun July 27
After arriving in Moscow, we will be transfered to famous Hotel 'Ukraina', where a chilled welcome vodka awaits us in its specious hallway in old-style Stalinesque pomp. The hotel is a spectacular building in the typical Stalinian architecture and is located conveniently in the centre on the town. In the following four days, we will travel with the Moscow metro (some metro station themselves are worth a visit) to explore the city (Kremlin, Red Square, Pushkin house, Tretjakov Gallery, Lenin Library, Arbat Street, former KGB museum, Kolomenskoe and ... cloisters.) An excursion to Sergiev Posad (formerly Zagorsk, 50 miles from Moscow), the capital of the Russian orthodox church with an impressive array of churches and a still working abbey, is planned for those who are interested. Upon request, we will reserve tickets for the famous Russian ballet, the opera or the circus. For the rest, we will just enjoy the city of Moscow, which has undergone an incredible transformation from a grey and dark city to a modern metropolitan capital with bars, illuminated streets and luxurious supermarkets everywhere.

Circus in Moscow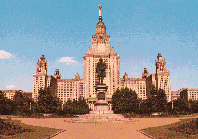 Moscow State University

Churches in the cremlin of Moscow
Wed July 30
Before leaving to Siberia, we will have time to make a few provisions on the Arbat street and the large shopping mall (GUM) next to the Red Square. In the afternoon, we will leave Moscow and board the Trans-Siberian express that leaves Moscow every day.
While we settle into our comfortable compartment and enjoy a cup of hot tea from the samovar, the first hours on the train take us past Vladimir, Nishni Novgorod, (previously called Gorki), and Perm, old Russian towns of which we will catch a glimps from the train station, where the train is stopping for a while.
Thu July 31
We will cross the boarder of Europe and enter Asia to arrive in Yekatarinburg (city of 1 million, renamed Sverdlovsk from 1924 to 1992) on the second day. We we will stay overnight at hotel Iset, a building with hammer and sickly shape ground floor. This city is rich of historic events: founded in the 17th century, the city was transformed to serve as exile for many prisoners, amongst them the last Czar and his family. Ekaterinburg is also the hometown of Boris Yeltsin, who served as mayor to the city.
Fri Aug - Tue August 5
We will leave on Aug 1st in the evening towards Irkutsk. After a total of five days on the train past the Ural Mountains through forests, beside lakes and rushing rivers, swamps and remote villages of painted wooden houses, we will arrive at Irkutsk early in the morning. Irkutsk is also called 'Paris' of Siberia for its pulsing street life and people's elegant clothes. Still a major trade center for furs, Irkutsk enjoys today a certain economic wealth. Short but hot summers and very cold winters, however, make life here a real challenge. In the afternoon, we will depart for Listwjanka, on the shore of lake Baikal. On a hydrofoil we reach the shore of lake Baikal from the port of Irkutsk in about 90 min.
Lake Baikal is a unique biosphere, the World's deepest, largest (in terms of volume) and presumably oldest (25 million years) lake containing more than 20% of all running fresh-water on this earth. The threat of pollution by unregulated economic exploitation has led to the creation of the largest protected area to keep the cleaness of its water and uniqueness of its inhabitat for future generations. Lake Baikal is home to a fresh water seal (the Nerpa), and an incredibly rich flora and fauna. An other specimen found nowhere else in the world is a transparent fish called Golomyanka that lives in the lake's deepest waters. The lake is 400 miles long, 40 miles wide and about 1 mile deep. Unlike other deep lakes whose bottom waters are poisoned by hydrogen sulphide and other gases, Lake Baikal's water is saturated with oxygen from its surface to the deepest point and therefore, living organisms can be found at all levels. We will enjoy a bath in the 'Old Man', as local people call the lake. Its water is amazingly transparent: Stones and fish can be seen to a depth of about 50 m and they seem so close that a first-time visitor may be tempted to reach out and pick one up. One of the secrets is that there are millions of microorganisms living in the lake whose main purpose is to clean the water of all pollutants. We will learn about the lake from one of its true experts and 'native of the lake', Prof. Maximov (called Max), the director of the local limnological institute (a water watch institute) near Listwyanka. Our home is a wooden house near the lake where local food will be prepared by our host. We will have time to hike along the lake, explore small valleys where relicts of old (as rumors go still secretely working) gold-mines can be found, and enjoy relaxing on the shore and swimming in the lake. Those who are interested are also invited to join Max for a tour through the limnological museum. A Russian steam bath right on the shore of the lake invites to experience a typical Russian sauna.

lake Baikal

Listwjanka

House in Listwjanka

Our Home
Thu August 7
In the evening we will return to Irkutsk to visit its old churches, shaman houses, and markets, where we hopefully find some good buys.
Fri August 8
In the afternoon, we board the Trans-Monoglian train to Ulan Bator, the capital of Mongolia. The landscape gradually changes from wide forests and rivers to a uniform steppe, where the great Khans have been riding their heroe horses.
Sun August 10
In Ulan Bator we are going to visit the palace of Bogdo Khan, the Gandan abbey, and the natural history museum with the remains of the biggest dinosaurs ever found on earth in the Mongolian desert. Our local guide will introduce us to the Nomadic way of life of still many mongolians today. On a jeep, we will travel to a Mountain Camp, where we will sleep in gers and enjoy a hike on the hills by foot or on the back of a horse. On our way back we will visit a Mongolian family living at their Summer place. We will taste mare's milk and eat delicious kebabs.
Thu August 14
Early in the morning, after staying overnight in Ulan Bator we are heading towards the Chinese border through the Gobi Desert. Erlyan, the border town is nothing more than a military post. Since the Chinese railway operates on Standard Gauge and Russia/Mongolia on a narrower Five Foot Gauge, the boogies of all wagons are changed while hydraulic lifts raise the carriages. After a night in the train, we will find ourselves climbing on narrow serpentines into the Chinese mountains. The Great Wall is visible from many locations and frequent stops of the train. Beijing, the capital of China, is the final destination of our railway journey, that has led us across two continents. With our local guide, we will visit the Forbidden City, the Tiananmen Square, the Temple of Heaven, and the Summer Palace of the Imperial family. Beijing is home to millions of small shops and street traders, the place to shop for souvenirs and bargains, and the last opportunity to taste the delicious Chinese food in all its variations. For those interested in the old-style culture, Opera, Theater or Comedy tickets are available from our local guide. In Peking, we will have ample time for our own exploration of the old and new town.

Ulan Bator

Mongolian mountain region

Family living in Gers (Yurts) outside Ulan Bator

Mongolian horses

Temple of Heaven

Tiananmen Square - entrance into the Forbidden City

business street in Beijing
Sun August 17
Individual return flights back home or to whereever your journey takes you ...
---
Preparation
A Trans-Siberian journey needs a lot of preparation, both physically and mentally. We are going to send you more details about what to pack and take with you. Backpacking is required, however, we will never need to walk more than one mile with all our luggage. A complete list of essentials includes good and comfortable walking shoes. Good general physical health is required. However, the most important part is to be prepared mentally and culturally for the many different people and cultures we are going to meet. For that reason, we suggest reading about Russia, Mongolia or China in advance. As an affiliate of amazon.com, we have a collection of titles in our bookstore that we can highly recommend. A must for all Trans-Siberian travellers is the Trans-Siberian Handbook.
General
The size of our group is limited to 14 persons. Participants must be physically fit and have a strong sense for team-work and communication. Travelling in Russia, Mongolia and China requires patience and a sense for adventure. We have encountered many anectodal problems during the journeys in the past 6 years we have been organizing guided tours in Russia. Two example may serve to illustrate that the unexpectable happens in Russia/Mongolia/China everyday. In one case, the train compartment was loaded with Mongolian rugs that made any access to our beds impossible. Talking to the Mongolian traders who owned the rugs finally helped to clear our well deserved beds. In another instant, a participant who was refused entry to Mongolia at the Russian/Mongolian border because of an outdated and unrecognizable picture in the passport. Talking to the military officers at 4 a.m. at night for about one hour finally helped us to continue the journey. The group however had decided that none was going to be left behind and that we would all get out of the train at the border. Eventhough the situation was bizarre and painful, only these experiences make such a journey truly unforgettable. More than 120 people have been with us on our tours so far, from 20 year old students to senior managing directors and even a retired 71 year-old lady made it safely. So, why don't you join us for this life-long experience?

through Gobi desert
Join us!
Please use our online application form. Application deadline is Mai 15, 2003. After your application, we will send you a confirmation and further information. The number of applications is limited to 14 and places reserved on a 'first come, first served' basis.
Prices
Included are all train tickets (2nd class, 4-berth compartment), transportation in Moscow, Yekatarineburg, Irkutsk, Lake Baikal and Mongolia, accommodation (double room occupation, single room upon special request), and full board at lake Baikal and during our excursion in Mongolia. We will stay in the following hotels:
Moscow: Hotel Ukraina*** (middle class, Stalinian style)
Yekatarinburg: Hotel Iset*** (middle class, in the center of the town)
Irkutsk: Hotel Irkutsk*** (middle class, centrally located)
Lake Baikal: Wooden house on the shore of Lake Baikal, simple, multiple beds in one room, full board
Ulan Bator: Hotel Bayangol**** (upper middle class, in the center of the town)
Beijing: Hotel Asiavision*** (middle class, in the center of Beijing, near railway station)
Included in the program are city tours in Moscow, Yekatarinburg, Irkoutsk, Ulan Bator and Beijing, and all visits to sights and landmarks mentioned in the program. Included are all transfers from the airport/train station to the place of accommodation.
Not included in our prices are all personal meals (except at lake Baikal and in Mongolia where there are no restaurants or food shops available), all extra cultural programs (museums, theaters, cinema) and evening programs, where you are on your own. Our prices exclude airline tickets, which you need to book individually. We can offer a ticket with Lufthansa to/from Zurich or Frankfurt (exact departure and arrival times will be posted later). Please check for international airfares at your local travel office. Not included is health and travel insurance, and all costs for visas (Russia, Mongolia, China).
Our booking conditions (PDF) apply.
---
Costs for the journey (in US Dollar, per person):
| | |
| --- | --- |
| Standard program as described (July 27 - Aug 17, 2003) | USD 2700 |
| Additional and upgrades | |
| Visa for Russia, Mongolia and China | USD 200 |
| Flight Lufthansa Zürich-Moscow, Beijing-Zürich, Economy Class | USD 1000 |
Apply now online to join us