Hotel Bayangol
Accommodation at Hotel Bayangol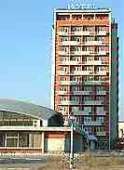 The hotel "Bayangol" offers 204 elegant rooms with all comforts, including in house cable TV, mini-bar, luxury bath and shower, international phone. Its central location (300m from central square, 2 km from railway station, 20 min from international airport) makes it an ideal place to stay in the capital of Mongolia for short visits.
The hotel has several first class restaurants and bars:
Bayangol Restaurant: Restaurant Bayangol with 300 seats offers you he delights of Eastern and Western cuisine as well as the traditional Mongolian food.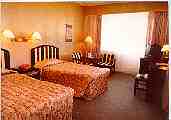 One Day of Mongolia: 20 seat One Day of Mongolia Restaurant is the favorite place for our guests with its exclusive service and delicious Mongolian cuisine, famous Mongolian barbeque and host of other dishes awaits you.
Children of Arbat: Russian cuisine Culinary delicacies of our Russian chief. Taste the flavors of unforgettable Russian cuisine.
Casablanca Cafe & Bar: Real draft Tiger beer, lost memories of romance, unforgettable atmosphere of Mediterranian in the heart of East – That is Casablanca. Mix with locals, interesting competitions, nice service and feeling of other times.
Mongolia Bar (2nd floor, Tower B): Intimate atmosphere of early Mongolian atmosphere of Renaissance.
Russian Bar (3rd floor, Tower A): Reminiscences of once great empire, memories of Red giants years in Moscow.
Facilities at Bayangol include a fitness center, business center, beauty salon, laundry service, sauna, jacuzzi, billiard, shops, airline ticket office, conference facilities. All major credit cards are accepted.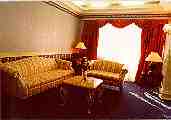 Address: 5, Genghis Khan Avenue, Ulan Batar, Mongolia
Room Rates (USD, per room per night)
Single 72-250
Double 100-280
Prices vary by season and type of rooms (junior suite, de luxe suite, executive suite). All rates include breakfast.
For reservations contact us.