Hotel Hademen
Accommodation at Hotel Hademen in Beijing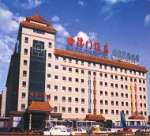 Hotel "Hademen" is a 3-star hotel lying at the heart of Beijing, within walking distance to the Central Railway Station, Tiananmen Square and Beijing's business and most famous downtown pedestrian area "Wangfujing". It also features one of the best Chinese Duck restaurants in town, the "BIAN YI FANG Roast Duck Restaurant".
The hotel has 229 guest rooms of various types. The hotel comples includes a business center, shopping areas, beauty salons, massage, hairdressing, laundry service, foreign exchange, taxi, bike rent, train and plane ticket booking, parking places, karaokee bar, etc.
All rooms have individually controlled air-conditioning, color TV with satellite channels, in-house movie, radio, mini-bar and international direct dial telephone. Non-smoking and Family rooms are available for your convenience.
There are also 21 office an meeting rooms in various sizes in addition to the hotel business center. The business center provides fax, photocopying, internet access, translating and secretarial services.
We can highly recommend staying at the "Hadamen" as it offers very good price / quality rooms for the individual traveler and is conveniently located right next to Beijing Central railway station.
Address: No.A.2 Chong Wen Men Wai Street (map engl., map chin.)
Phone: (86-10) 6711 2244
Fax: (86-10) 6711 6865
Room Rates (USD, per room per night, maximal 2 Persons per room)
Standard room: 60
Executive Suite: 120

Rates include taxes and buffet breakfast.
For reservations contact us.