Hotel Irkutsk-Intourist
Accommodation at Hotel Irkutsk/Intourist in Irkutsk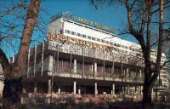 The hotel "Irkutsk" (formerly known as Hotel Intourist) is located near the city center on the bank of Angara river. Used extensively by both business and leisure travelers to Irkutsk, particularly those stopping over on the Trans-Siberian railway. It is the largest hotel in the city with 245 rooms on 9 floors: Single, double, twins and suites. The hotel is within walking distance to all major sights on Irkutsk and to the main shopping areas.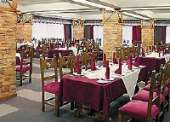 The hotel features a Russian and Korean restaurant ("Medved" and "Seoul") and several cafeterias and bars. Services include a travel shop, Russian sauna facility, gift shops, a hair dresser and currency exchange, general store, doctor and dentist resident in the hotel.
Address: 44 Gagarina bul., Irkutsk, 664050, Russia
Tel: +7 3952 290-167
Fax: +7 3952 277-872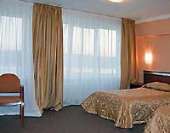 Room Rates (EUR, per room per night): 130-150
Prices vary by season and type of rooms. Room rates include buffet breakfast.
For reservations contact us.