Hotel Majak
Accommodation at Hotel Majak in Omsk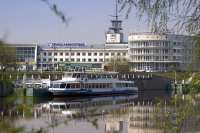 The hotel "Majak" has 68 rooms renovated in 2003 and is located on the shore of the "Irtysh" river in the city center. The Music and Drama Theatre and Vrubel Museum are some of the area attractions. The hotel offers comfortable guestrooms that are well equipped with numerous standard amenities including a refrigerator and satellite TV. A well-equipped business centre that can organise various meetings are also available onsite. During leisure, guests can relax at the cosy lobby or take a sip at the cocktail bar.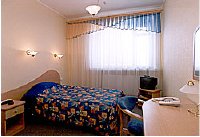 Address: 2 Lermontov street, 644024 Omsk
Phone: +7(3812) 500075
Fax: +7(3812) 315431
Room Rates (EUR, per room per night)
Single Standard (11 m2): 80
Double Standard (23 m2): 120
Double Luxury (57 m2): 220
Rates include breakfast and access to all facilities.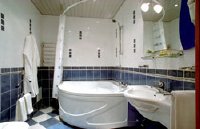 Facilities: Restaurant and bar, Business centre, Travel agent, Excursion service, Laundry facilities
Services: Air conditioning, Cable / Satellite TV, Hairdryer, Iron and ironing board, Mini bar, Private bathroom, Refrigerator, Telephone
For reservations contact us.