Hotel Oktyabrskaya
Accommodation at Hotel Oktyabrskaya in Ekatarinburg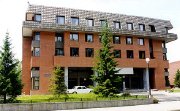 The Hotel Oktyabrskaya is conveniently in the city center close to business areas, night attractions, theatres and shopping centres. It offers all the requirements of European quality and is equipped with all modern conveniences: Bar, cafe, souvenir shop, business-center, conference rooms, sauna, swimming pool, hair dresser. All rooms have European standard bathrooms and are equipped with satellite TV, refrigerator, telephone (with internet access).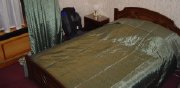 Address: Hotel "Oktyabrskaya"
17 Sofi Kovalevskoy st
Ekaterinburg Russia 620066
Tel: +7 343 374 15 95
Fax: +7 343 374 50 16
Room Rates (USD, per room per night): 90-140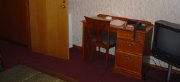 Prices vary by season and type of rooms. Single rooms are available. Room rates include buffet breakfast and use of all facilities.
For reservations contact us.