Hotel Red Wall
Accommodation at Hotel Red Wall in Beijing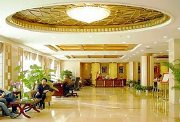 Hotel "Red Wall" is a 3-star hotel lying at the heart of Beijing, within walking distance to the Tiananmen Square and Beijing's most famous downtown pedestrian area "Wangfujing" with lots of street life. The hotel as 141 rooms of all types and features a View Bar on the top of the hotel.
The hotel includes a business center, meeting facilities, massage, hairdressing, laundry service, foreign exchange, taxi service. The Royal Kejiawang restaurant is the the largest Chinese restaurant in Beijing serving Kejia dishes. The Redwall Cafe provides western food/24-hour a day.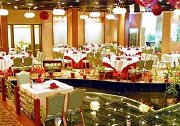 All rooms have individually controlled air-conditioning, color TV with satellite channels, in-house movie, radio, mini-bar and international direct dial telephone. Non-smoking and Family rooms are available for your convenience.
We can recommend staying at the "Red Wall" if you want to be close to the city center and within walking distance to Beijing Night Life districts.
Address: No.31 Sha Tan North Street, Dongcheng District., Beijing, China, 100009, map
Phone: (86) (10) 5109 8888
Fax: (86) (10) 5109 8888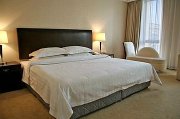 Room Rates (USD, per room per night, maximal 2 Persons per room)
Standard room: 60
Executive Suite: 120
Rates include taxes and buffet breakfast.
For reservations contact us.