Hotel Zolotoi Kolos
Accommodation at Hotel Zolotoi Kolos**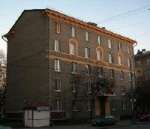 The Zolotoi Kolos Hotel was opened in October, 1954. It currently offers its guests varied accommodation in 304 comfortable rooms with all the standard amenities including a color TV, a telephone, a fridge or a mini bar. Every room rate except Budget comes inclusive of a buffet breakfast per person. If your tariff of choice is Budget but you would still prefer to have the option of breakfast you need only pay an extra RUR 180 per day.
The Hotel offers an impressive range of services to its guests who can dine at any of its three cafes and two lobby bars, as well as order a catered banquet, a dinner "a la fourchette", or corporate event. Two conference halls, seating 60 persons with optional rental presentation equipment, a first aid station, a sauna, a 24-hr. luggage room, a rail and flight ticket office are also offered by the hotel. The security of both the hotel's guests and its employees is ensured by means of round-the-clock closed circuit video surveillance of the lobbies, hallways and adjoining grounds and enforced by the extra departmental Security Service with the Head Office of the Ministry of the Interior for the North-Eastern Administrative District of Moscow.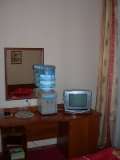 The Zolotoi Kolos Hotel is located just off one of Moscow's main thoroughfares – Prospekt Mira (Peace Avenue), and is a mere 5-minute walk from metro station VDNKh. The nearest major exhibition and fair grounds are those of the VVTs (The All-Russia Exhibition Center) and the Sokolniki Fair and Exhibition Center. A 10-minute direct subway ride will get you to the Olympiysky Sports and Entertainment Arena, whereas a similar trip into the heart of Moscow will set you back just under 20 minutes.
The quality service and very reasonable rates offered by the Hotel and complemented by its brilliant location, make the Zolotoi Kolos one of the most attractive places to stay while in Moscow, be it for business or pleasure.
Room Rates (EUR, per room per night)
| - | Single | Double | Double two-roomed |
| --- | --- | --- | --- |
| Budget | – | 95 | 110 |
| Standard | 105 | 125 | 150 |
| Comfort | 150 | 165 | 190 |
| Business | 165 | 180 | 210 |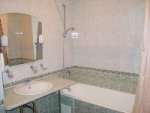 Rates includes buffet breakfast (except Budget rooms).
For reservations contact us.