Alloggio Mosca
Vous choisirez votre logement parmi un éventail qui satisfait à bien des exigences!
Camere singole nel campus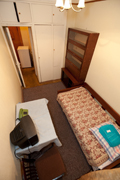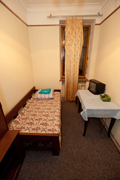 In un' ala dell' edificio principale offriamo camere singole e doppie con lavandino, doccia e toilette. Alcune di queste stanze sono state da poco rinnovate e su richiesta sono dotate di televisore, frigorifero e telefono. A ogni piano si trovano grandi cucine, una sala di conversazione e una recezione per la sicurezza e per l'ordine.
In famiglia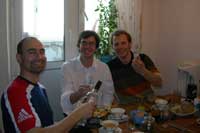 É possibile d'abitare e mangiare presso una famiglia scelta dalla nostra organizzazione. Le famiglie abitano presso l'univeristà e in tanti casi, I memebri della famiglia sono professori alla MGU. Ogni partecipante verrà trattato come uno della famiglia e avrà la sua camera personale.
Bere e mangiare
Ci sono quattro mense all' università che servono dalle 800 (prima colazione) alle 2000 tipici piatti russi. La scelta è varia, ma c'è sempre la zuppa (Borsch, Schi, Soljanka), insalate, riso, patate, gulasch, pelmeni e bibite. Il prezzo per un piatto è circa due franchi. Nonostante i prezzi bassi, la qualità è buona. Qualche volta bisogna adattarsi perché non ci sono coltelli. Nella mensa dei professori e in un ristorante da poco aperto, si può trovare un servizio di tipo occidentale per prezzi (quasi) occidentali.
Hotel in Moscow
A viable alternative is the Hotel Universitetskaya located some 10 minutes from the main MGU University Campus (simple standard rooms for a cheap rate). If you prefer, we can also book a room at one of the more centrally located hotels in Moscow (we recommend Hotel Akademicheskaya, Hotel Zolotoi Kolos or Hotel Arbat). FOr other alternative see our hotel in Moscow and Russia page.
Private Apartment Rental in Moscow
If you are looking for privacy, a self-catering apartment might be the best choice for you. We can find a flat for you and your friends in different locations around the city centre of Moscow. Apartments in Moscow are fully equipped with a kitchen, bed linens, a television, internet (cable / wifi) and a internatinal telephone line most of time FREE.
And if you prefer, you can have your language course conveniently organized at your own place. Weather you have a seminar room at your local partner company if you are on business trip in Russia, your own apartment in Moscow or hotel, our teacher are ready to move.
Food and drink at the University campus
There are four university cafeterias that offer breakfast and diner from 8 a.m. until 8 p.m. Typical Russian dishes such as soup, fish and meat are being served as well as western European like meals. Prices are moderate at 3 to 5 USD for a main course. Quality has improved a lot over the last years and is comparable to Western university cafeterias. In a newly opened restaurant and in some cafes, you can find high quality food with good service, but significantly more expensive. Check out our tips and tricks page.
Every two weeks, our local partner Farid Valitof invites all students for the Ziegler & Partner Student dinner and welcome vodka party at a nice café in the MGU. It is a great occasion to meet other persons from all over the world and to welcome new students. A shot of vodka and typical Russian dishes help great friendships to born! Apply once you are in Moscow don't miss it!