Cultural activities & excursions in Odessa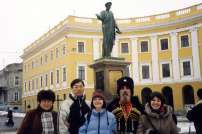 With its nice old classical streets dating back to its foundation years, its charming public gardens and several beaches along the seashore, Odessa is now an ideal place to study Russian while being on holidays. The everyday life has eased since the end of the nineties, offering foreign visitors all what they need. You can go to Odessa all year round and the city is very well linked to the rest of the world, thanks to its international airport, train station and port.
Excursions in Odessa or in its surroundings are regularly offered to our students (as a rule, tours are in Russian). These excursions will allow you to discover the rich history and the architecture of the region. They are lead by a authentic native Odessite guide who is able to explain the fate of every stone and every great figure of the city.
We can also help you organize broader tours in Ukraine, for example to Crimea (one night by train or 40 minutes by plain) or to Kiev. We can help you to organize a trip in the rest of Russia too. Moscow is only one night away by train or one hour by plane. The Trans-Siberian rail track brings its passengers to the very Far East until Beijing and Vladivostok. Don't miss the stop at the wonderful lake Baikal. And for Russian airline tickets and hotels throughout Russia, why not booking online? You will find further travel information on our FAQ tips and tricks page and an active forum for questions.