Odessa today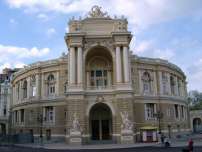 Located on the edge of the Black Sea, Odessa is a charming high-spirited Ukrainian city of one million inhabitants. Opened to the world thanks to an active port, its inhabitants (the Odessites) are known for their great sense of humor and their freedom towards the central power, whichever it is. Cultivating a cosmopolitan culture and a vivid Russian language (Odessite usually do not speak Ukrainian), the city has a rich cultural life thanks to its opera, philharmonic orchestra and several theaters. Welcoming many students in its universities, Odessa offers also plenty of various activities. The predecessor of Odessa, a small Tatar settlement, was founded by Haci I Giray, the Khan of Crimea. After a period of Lithuanian control, it passed into the hands of the Ottoman Sultan in 1529 and remained in the Ottoman Epire hands until its defeat in the war between Russia and Turkey in 1792. The city of Odessa was founded by a decree of the Empress Catherine the Great in 1794.
During the Soviet period it was the most important port of trade and naval base. In 2000, on January 1st, Odessa trade sea port was declared free. It was also going to be a free economic zone for the next 25 years.
more details on the history of Odessa »
Everyday life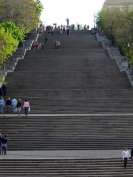 Since the end of the nineties, life in Ukraine became easier. The country produces food of good quality respecting occidental rules for hygiene, taste and packaging. Prices are much lower than in Russia, and especially than in Moscow.
The national currency (the "grivna", in short "gr.") remains relatively stable against USD and Euro since several years. In February 2003, 1 USD was about 5.3 gr., 1 Euro 5.8 gr. It is easy to find ATM's in town taking various credit cards, debit cards and cards belonging to the "Plus" net, like the swiss "Postcard". Locate all VISA or Mastercard.
It is good to know that most citizens of EU, US, Switzerland, Canada, Japan and many other countries do not require visa anymore for a stay up to 3 months. For all other countries, the Ukrainian visa is presently easy to obtain. Foreigners are also free to travel wherever they want inside the country. Please check for specific information at the Ukrainian embassy or consulate of your country before leaving.
When to go to Odessa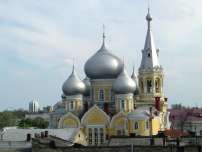 Each season is charming in itself, even if Odessites recommend to come in Spring. Winter is not too cold and the Black Sea seldom freezes. In Spring trees of the city bloom marvelously and you can swim in the sea in Summer. July is the hottest month. Fall comes later than usually in Ukraine, around October.
How to go to Odessa
The fastest and best option is to fly to Odessa. Regular flights from different companies are also available between Odessa and Europe via Istanbul, Warsaw, Moscow, Kiev. For prices and connections, please contact us or ask your usual travel agent. Austrian Airlines have a daily flight to Odessa via Vienna from every city that it serves.
In a more exotic way, you can travel to Odessa on one of the few boats linking the city to Istanbul (about 12 hours). There are also many trains arriving to Odessa from Kiev (about 12 hours), Moscow (about 24 hours) and other cities of the ex-USSR. Ask us for an offer if you are interested.