Semester Study at MGU
Moscow State University named after the famous scientist Michail Lomonosov is one of the leading academic institutions in Russia and proud to welcome foreigners to study at one if its 22 departments. As an official agent of MGU, we are delighted to help to come to one of the most prestigious universities in Russia.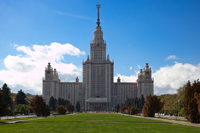 Regular semester courses at MGU start on September 1st and on February 10th every year. Short-term courses (min 2 weeks) are possible upon request. As an officially registered student, you will get an MGU student card and enjoy many benefits and reduction on travel through Russia.
Prior to enrollment at Moscow State University, all foreign students are required to pass a Russian language test. Foreign students with beginner's knowledge of Russian are required to take a one year preparation Russian course at the University Center for International Education, which provides sufficient knowledge of Russian language to enter any department. Students with more advanced knowledge can take a one semester course or prepare individually for the exam (e.g. following our individual language courses). The entry exam requires foreign students to reach level 2 of the TORFL test, which means that you must be able to understand and write in Russian and have had a minimum of one year full-time tuition in Russian language.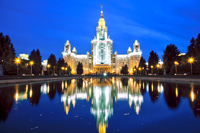 If you would like to study for a short time in Moscow and transfer back to your home university, we will be glad to help you transferring your credits earned at MGU. As Moscow State University is one of the leading educational institutions in Russia, credit approval is usually not a problem.
Please note that the duration of studies is 8 semesters to obtain a BSc/BA degree, 4 semesters (provided you have a BSc/BA degree) to obtain a MSc/MA degree, and 6 semesters to obtain a Ph.D. degree.
To enroll please send us an email or enuire with the requested faculty, any course at MGU of your choice. We will check all applications carefully and reply to those who are eligible with more details about how to proceed (sending certificates, passport copies, etc.).
Additional costs
Accommodation:

USD

200 – 500 per month depending on type in various dormitories, e.g.

MGU

Guest House
Medical insurance at

MGU

:

USD

150 per semester
Transportation: Monthly student passes for all kinds of public transportation are about

USD

30 per month.
Meals: Breakfast, lunch and dinner at the university costs approx. 10 -15

USD

per day.
Fees for preparation courses
2 semester general preparation course for undergraduate and postgraduate studies at the University Center for International Education cost approx.

USD

5000 per academic year (Sept-June).
Individual language course programs are also available (see general info and prices, use separate application form).
We have a list of resources to apply for scholarships, however, we personally do not provide scholarships.
How to proceed

If you would like to enroll at MGU, please send us an email or enquire. Your application will be examined and a representative of the department of MGU for which you are applying will contact you in case of acceptance. You will then have the opportunity to finalize your program with the MGU coordinator. Payment of the tuition fee is required in advance.