Accommodation in Kaliningrad
We are happy to propose you different types of accomodation for your stay in Kaliningrad. Accommodation is generally reserved from Saturday or Sunday before the begining of the course, until Saturday or Sunday following the end of the course. Extra nights of accommodation before and after the course can be arranged at an extra fee.
Host family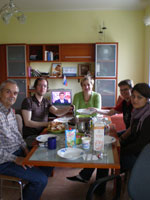 Living with a Russian family is the best way to get immersed in the Russian culture and language in Kaliningrad. All our host families are carefully selected. Every participant is accommodated in a single room, with access to shared bathroom facilities, kitchen, telephone, television, and sometimes internet. Students are offered all the necessary conditions for resting and studying at the homestay.
School shared apartment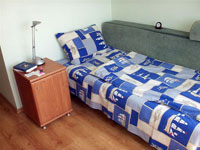 The shared apartment is located right in front of the school! It has two smaller rooms and one larger room. The larger room is perfectly suitable for a couple. It also has two bathrooms and a common living area. The appartment is situated in the green district not far from the centre of the city. It has all modern conveniences: washing machine and a fully equipped kitchen. Once a week bed linen will be changed, the cleaning is also included.
Apartment in Kaliningrad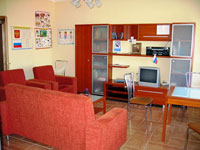 We can also arrange lodging in a private apartment or studio. This way of lodging is also suitable for an independent person or a couple who wish to have more privacy in a flat. You will can take care of your meals and the household yourself. All apartments we offer are located within maximum 20 minutes walking to school and 5-10 minutes by bus to the city center.
Hotels in Kaliningrad
For those who are seeking more comfort and independence, they will find a large range of hotels and guesthouses in Kaliningrad. Many hotels in Kaliningrad offer good prices and quality service, especially in the low tourist season.
Other types of accommodation
We can offer you other types of accommodation, especially for organized groups. This may be a pension, a student dormitory or a youth camp on the coast.