Kaliningrad today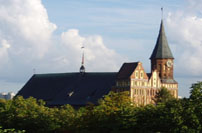 Kaliningrad is located in the western far end of Russia's border. As an enclave situated between Poland and Lithuania, Baltic states, it lives its own life even if it does not forget its Russian soul, neither its very pure language. The nature is still very wild, with its swamps, its fallow fields, its immense blue skies and the Baltic coast.
The city of Kaliningrad itself, the capital city of the enclave, is one of Russia's greenest and most tree-lined city. Above all, it is one of these places where history chooses to confront civilizations: drab Soviet architecture stands next to some of the most picturesque avenues you will find anywhere in Russia, all in the German sectors that survived the war. Since a few years, young creative people make it a very dynamic place.
more details on the history of Kaliningrad »
more details on the history of Russia »
At the foundation of the city, the castle of Königsberg was built in 1255 by the Teutonic Knights as a tribute to King Ottokar II of Bohemia, who had led a campaign against Pagan Sambians. The town became a member of the Hanseatic League, then headquarters of the Teutonic Order in 1457, and seat of the secular Duchy of Prussia in 1525. Königsberg became a centre of education when the Albertina University was founded by Duke Albert of Prussia in 1544. By the act of coronation in Königsberg in 1701, Prince-elector Frederick III of Brandenburg became Frederick I, King in Prussia. After World War I, the creation of the Polish Corridor cut off East Prussia and Königsberg from the rest of Weimar Germany. After World War II, people came from all over the ex-USSR to replace the deported Germans.
Kaliningrad is the best place to study Pushkin's language while looking for the Teutonic Knights' last traces! You will also be able to visit the highest sand dunes of Europe, the world's largest amber mine, Swedish castle ruins, the headquarters of Russia's Baltic Fleet and other even more surprising wonders.
Everyday life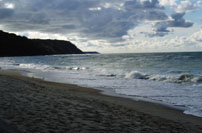 Kaliningrad's enclave has now a little bit less than one million inhabitants, half of which live in the city of Kaliningrad. The natural beauties of the region are thrilling with long sandy beaches, fallow countryside and swamps. The city itself is very pleasant with its numerous public gardens scattered with romantic ponds and its ancient residential German neighborhood.
Since the end of the nineties, life in Kaliningrad became easier. One can find most foodstuff known in the West as well as many nice charming cafes serving tasty cuisine. Prices are much lower than in Moscow. Internet Cafes are spread everywhere in the city.
Like the rest of Russia, Kaliningrad uses rubles. It is easy to find ATM's in town taking various credit cards, debit cards and cards belonging to the "Plus" net, like the Swiss "Postcard".
See also our FAQ tips and tricks for a successful stay in Russia.
How to go to Kaliningrad
By Airplane:
Kaliningrad's airport has daily flight concection to Europe via Warsaw (LOT, Polish airlines) and via Riga (AirBaltic Latvian Airlines). For prices and connections, we can help you to arrange your flights or you can check the company websites directly.
Aeroflot flies via Moscow. Note that there is no need to have a double-entry visa if you fly from Moscow.
Another option to skip the Russian capitals is to fly to Gdansk. From there you can take either a bus, train or taxi to reach Kaliningrad in four hours (we will advise you on the schedule if needed). For Low-Budget Airlines to Gdansk or Warsaw, Poland. You may check Whichbudget for cheap airfares.
You can also find direct flights from Berlin or Prag to Kaliningrad with RusLine.
h3. By Train:
A night train coming from Berlin has been recently put into operation: modern and comfortable, it offers a real alternative to the plane. Kaliningrad is linked by bus to most European cities too. Please check the German railway or Polish railway websites.
By Bus:
There is also a number international buses connecting Kaliningrad with the cities in the EU. Tickets can be booked at your local travel agent or bus company. International coach timetable and tickets for some routes can be bought at www.eurolines.com.
A very popular service to join Kaliningrad is to take a minivan to and from Germany and Benelux. There are dozens of these small coaches running between the city and Europe every day. If you wish, we can organize your trip by minibus: from door to door through Europe, it is not very confortable but sometimes one of the cheapest and most convenient ways to come to Kaliningrad, especially for groups.
When to go to Kaliningrad
Summer in Kaliningrad is perfect for holidays. The enclave's sandy beaches welcome the rare foreign tourists. Winter is warmer than in Moscow. Fall and spring can also bee friendly even if rain can fall quite often and encourage you to open your books.