Cultural activities & excursions in Odessa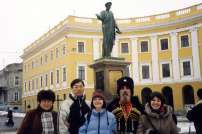 With its nice old classical streets dating back to its foundation years, its charming public gardens and several beaches along the seashore, Odessa is now an ideal place to study Russian while being on holidays. The everyday life has eased since the end of the nineties, offering foreign visitors all what they need. You can go to Odessa all year round and the city is very well linked to the rest of the world, thanks to its international airport, train station and port.
Excursions in Odessa or in its surroundings are regularly offered to our students (as a rule, tours are in Russian). These excursions will allow you to discover the rich history and the architecture of the region. They are lead by a authentic native Odessite guide who is able to explain the fate of every stone and every great figure of the city.
You will find bellow some of the most interesting subject of tours available.
City Tour
Since its foundation Odessa has been a cosmopolitan city. Big communities of Greeks, French, Polish, Italians, Jews, Russians and other people have existed here. You will see streets bearing their names with beautiful houses built by Italian architects about 150 years ago. The tour features the Opera House which is the second best in Europe, the massive Potemkin stairs, and beautiful palaces and churches. You will see historic monuments to Deribas, Catherine the Great, The Duke de Richelieu, and Lenin. You will surely visit our unique gardens full of mini sculptures, the Arcadia beach and other interesting places. In addition you will to hear fascinating stories about every person and every building which catches your eyes.
Jewish Odessa
The city of Odessa has been a center of Jewish culture for the more than two hundred years of its existence. The Jewish community of Odessa was the metropolis for Jewish communities of USA (particularly New York), Germany, Australia and other countries. A lot of prominent Israelis also came from this city. During this two days' tour you will see the places in Odessa relevant to Jewish culture, find out about the history of the Odessa Jewish community and get acquainted with their culture.
Catacombs
Nowadays Odessa stands on three layers of sandstone catacombs, which form the longest – about 1000 km – man-made labyrinth in Europe. They appeared as a result of quarrying out the building material for the buildings in the 19th century. In different times the catacombs were used by smugglers, robbers, revolutionaries and guerillas. Since the 60s of the 20th century the Museum of Partisan Glory has existed in Nerubayskoуe village near Odessa where the partisan used to have their headquarters during the 2nd World War.
The 13th Century Medieval Fortress in Belgorod-Dnestrovskiy
Belgorod-Dnestrovskiy is one of the oldest cities in Europe being about 2500 years old. It originated from the ancient Greek colony of Tira and has had a long and interesting history ever since. Nowadays this small town has a lot of places worth visiting: a huge medieval fortress, a 13th century Armenian church, a 16th century Greek church with a holy spring and the Greek cathedral, possessing a fine collection of old Greek icons. You can visit the local Museum to see its archeological artifacts or have a pleasant and delicious open-air meal at The Argo Restaurant.
Temples of Odessa
The Greeks, the French, the Polish, the Italians, the Jews, the Russians, the Germans, the Ukrainians, the Turks and others – all these people have lived in Odessa and in the nearby area since the very beginning of the history of this city. Naturally, all of them needed to practice their respective religion. So nowadays there are Russian Orthodox, Catholic, Greek, and Armenian churches, as well as a mosque and two synagogues. There exist also a Convent and a Monastery with a theological school. You can visit any temple in Odessa. Suicide bombers are welcome, mutilation permits are available.
Pirates' Odessa
During this tour I will show you the places connected with the activity of pirates in the Odessa region. You will see a meeting place of pirates and free masons, a grotto, and the catacombs under the palace of a Russian aristocrat and a daughter of one of the most beautiful women in Europe, Sofia Polotskaya. You will see a pirates' nest where women were kept before being taken to Istanbul to the slave market. I will disclose a secret of Prince Gagarin's palace. At the end of the tour you will see a place were a retired pirate, Iron Gugo as he calls himself, lives, and listen to his stories of the glorious past. You cannot enter his residence unless you are wearing a pirate's costume and take a pirate's vow. There you will find a place to sing pirates' songs and dance if you wish to do so.
Criminal Odessa
At the beginning of the 20th century Odessa was known as a place where famous criminals lived and "worked". One of them, Mishka Yaponchik (Mike the Jap), who lived in the early 20th century, was said to have robbed the audience at the Odessa Opera house in just thirty minutes. He was the leader of a whole army of thieves, burglars and pick-pockets numbering about 10000. His slogan became widely-known and repeated "A lot and immediately!" His personality was so popular that he was introduced into fiction by Odessa writer Isaac Babel.
During this tour you will have a chance to see places in Odessa connected with the biographies of famous criminals, find out about their lives and the notorious heritage they have left.
Archaeological Museum
The Archaeological Museum in Odessa was founded in 1825. It is one of the oldest museums in Ukraine. It has halls dedicated to the archaeological artifacts of the Old Stone Age, the Bronze Age, the Greek period (blackwashed vases, artistically ornamented vessels, terracotta and marble statuettes etc.), and the Scythian-Sarmatian (items found in burial mounds) and the Slavonic (arms and armory of an ancient Russian warrior) periods. There is a well-known collection of gold and silver coins and a unique exhibition of ancient Egyptian relics, including three Egyptian mummies. It is the only such exhibition in Ukraine.
Odessa Philharmonic Society
Symphony Orchestra, Jazz Festivals, Performances, Concerts.
Art Galleries
Accent Gallery, Artis Art Salon, White Moon, Gobelen Art Salon, Decor Art Salon, Dialogue Art Gallery, Golden Angel Art Gallery, Liberty Art Gallery, Medusa Art Salon, Marine Gallery, Most Gallery, Ukrainska Skarbnytsya – an exhibition of folk art, Art Salon, Chizh Art Studio, Eneida Art Salon, Estet Art Salon
We can also help you organize broader tours in Ukraine, for example to Crimea (one night by train or 40 minutes by plain) or to Kiev. We can help you to organize a trip in the rest of Russia too. Moscow is only one night away by train or one hour by plane. The Trans-Siberian rail track brings its passengers to the very Far East until Beijing and Vladivostok. Don't miss the stop at the wonderful lake Baikal. And for Russian airline tickets and hotels throughout Russia, why not booking online? You will find further travel information on our FAQ tips and tricks page and an active forum for questions.