St. Petersburg today
St. Petersburg, the former imperial capital with its old classical palaces, and Russia's window to Europe, was founded by Peter the Great 300 years ago. It was also the center of the revolutionaries' activities at the end of the 19th century, the symbol of Resistance against the Nazis. The inhabitants of St. Petersburg also endured a terrible seige during 900 days, from 1941 to 1943. A rich, tragic and colorful history!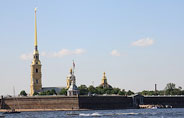 The foundation of the city at the end of the 18th century was a real challenge: the swamps of the delta of the Neva river were not appropriate for agriculture, the river and the sea were frozen five months a year and the sea was not deep enough for boats to reach the shore. By creating a new harbor and a new capital, Peter the Great wanted to show that Sweden had lost its leading position in the Baltic states, and that a new Empire was born among European nations.
Read more details on the history of Russia »
Read more details on life of St. Petersburg »
The czar was so powerful that in a short time, St. Petersburg became the most populated city in Russia, and the center of political and cultural life. St. Petersburg was also recognized as one of the most beautiful cities in Europe, erected by the best architects and town planners of that time.
Cut by numerous canals and built around famous streets like the Nevsky Prospect, the town of the former aristocracy, embassies and imperial army is very lively. The majestic river, the beauty of the monuments and the harmony of colors still contribute to make St. Petersburg the most beautiful city in Russia, also called by many the "Venice of the North".

In 2003, St. Petersburg celebrated the 300th anniversary of its foundation. The city was restored and repainted as if it had been built the day before. It welcomed millions of visitors during the year.
We invite you to study Russian in Saint-Petersburg, the city of the poets Pushkin and Dostoevsky, to walk along its romantic canals and discover the immense richness of the Hermitage Museum.