Hangzhou: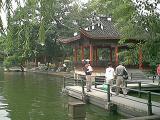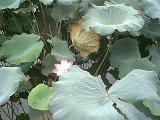 Shanghai: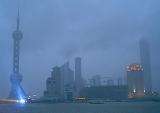 Hongkong: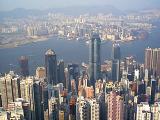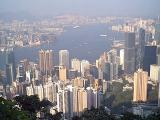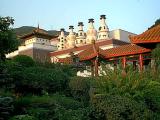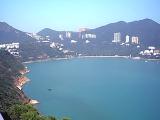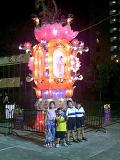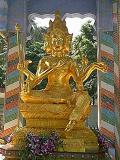 We are continuing our journey from Xian to Nanjing, Shanghai, Suzhou, Hangzhou, Guilin, Canton and finally Hongkong. China is a country of great contrasts in all aspects. Shanghai is a very modern city and landmark futuristic constructions alongside the former buildings are shaping the townscape. In the outskirts, modern apartment complexes with luxurious condos are being built right next to the little huts made of sheet metal, plastic and cardboard. On the other hand, life on the countryside resembles medieval times. Peasants are cultivating their land by hand, the richer of them with the help of water buffalos and donkeys. The main streets in Shanghai are filled with exclusive shops selling very expensive gadgets, the most precious one we see is a sailing boat for approx. USD 500'000, carved from elephant bones. On the countryside, markets are very chaotic and feature a wide variety of clothes, all kinds of plastic scrap, electronics and animals. Animal markets in China are the most exotic places we have ever seen. Chicken, geese, quails and other poultry are awaiting their sale crammed into small cages, often with their feet bound together, but all still alive. The animals are all bought and transported alive and it is not uncommon to see a Chinese women on her bike loaded with chicken from the bottom to the top finding her way through the crowd. A duck costs about 1 USD the kilogram. The fish section hosts almost all sorts of animals living in waters and looks more like a zoo than a market. Fish, crabs and snakes are held in large shallow pots on the floor and interested people take them out to check quality and age. The pots are indeed as shallow that a few fish take the chance to jump out and take a ride on the slippery soil before being captured by their proprietors. We didn't see any snakes escape from the same type of pots, but it might as well happen.

Daily life in Guilin:

Whereas the northern part of China is flat and dominated by enormous rivers deltas, the more inner part is hilly with beautiful landscapes and scenaries. In Guiling, the Lijiang River winds itself along bamboo forests through the famous hill landscape, which has inspired poets and painters alike. We take an airplane from Shanghai to Guilin as the journey by train and bus would take more than 3 days. Whereas the shops in the cities of Shanghai, Suzhou and Hangzhou are selling exquisite watches (hopefully genuine!), the ones sold in Guilin are ridiculously cheap and guaranteed to be faked. A 'genuine' Rado is USD 5, a Rolex (perpetual oyster) with automatic movement USD 10! There are imitations also from Versace, Boss, Nike, Adidas and other labels. Western CD, VCD and DVD disks are likewise everywhere available for prices as low as 1 USD. Nobody seems to worry about copyrights. Welcome China to WTO!

In the famous Peace hotel in Shanghai, we are dining exclusively with live music and show. We eat crocodile (from the Yangtze River), crab, fish soups and Chinese crepes as the dessert. All very delicious! The menu also has bird's nest, langoustine, shark fin, turtles, snakes, and thousand-year old eggs. The shark fins must really be delicious as a plate costs only USD 150. In the street cuisines, simple Chinese meals (noodles, rice, soups) cost a fraction, but are equally good. The only problem is to understand the menu and let the waitresses know what kind of food we would like to order. We try to use our dictionary with little success. Once, we point to point to chicken ("ji") and noodles. The Chinese cook nods enthusiastically and later gets back with a noodle soup and a plate of feet (probably from duck or quails). A look at the bill explains that this must really be a specialty as the plate of feet is about 10 times more expensive than the soup and probably the most expensive dish on the menu. We learn later that the feet of ducks are believed to be the most delicious part. A quick view into the dictionary also tells us that all poultry is called something with the word "ji". From now on, we go directly into the kitchen, point to the dishes we would like to have and in one occasion even take the fish out of the aquarium with our proper hands.
Suzhou, city of gardens nearby Shanghai: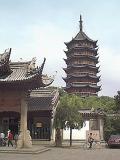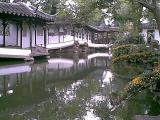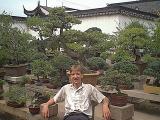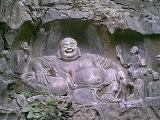 Nanjing: