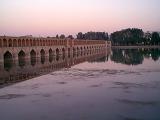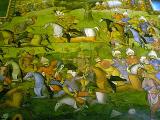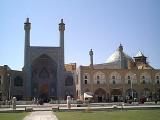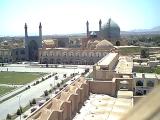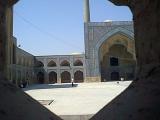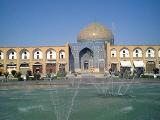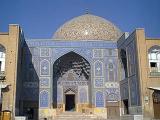 The province capital Isfahan is a jewel both historically and culturally. The establishment of the city dates back to the 1000 B.C. and it remained the cultural center under the rule of the Arabs, Seljuks, Mongols, Safawids, Afghans, Ashares and Qadjares. In the Safawid era (1501-1722) Isfahan experienced an unprecedented growth including the construction of the Imam mosque, Sheikh Lotfollah mosque and the Ali Qapu palace all located around the central square. The Shah Abbas is even said to have organized Polo games and military parades on the huge square. We spend the afternoon, as it is custom in Iran, in a teahouse overlooking the fabulous main square, drinking tea and enjoying a water pipe. Teahouses are normally only open for men, but for tourists exceptions are permitted, of course.

A long bazaar reaches from the main square some five kilometers to the central mosque. City construction in Iran is dominated by practical thoughts, meaning that in every town center, there is a mosque, a bazaar, a kawanserei (the precursor of modern hotels where travelers and traders lodged during their stay), and a bath, all conveniently connected to each other. The bazaar in Isfahan offers everything from carpets, kelims, spices, books, gold and jewelry to printed cloths and miniature paintings on camel bones, a specialty of Isfahan.

Trying to buy souvenirs, we find out what it means to be under the embargo of the US (which Iran has been since 1979). No US Dollar traveler cheques or VISA cards are accepted and we soon reach the bottom of our US Dollar stock. A carpet dealer finally offers us to exchange traveler Cheques for Iranian Rials through his office in Dubai (United Arab Emirates). We finally leave the carpet business after two hours of negotiation and several cups of tea with two magnificent carpets, a silk Turkmen and a nomadic Kashgai carpet made of finest lamb wool.