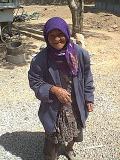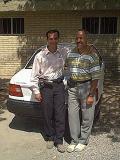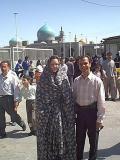 On the way to Mashhad, the holiest city in Iran, we stop at the foot of the Elbrus Mountains in Bestam. We visit a mausoleum of a famous Arabic scientist. As foreigners are not frequently visiting this place, we soon draw a lot of attention to us while walking into the burial place. Finally, A few policemen show up and our guide has to go to the police station for a report. What did we do? When our guide returns finally after a long hour, we learn that the local policemen just wanted to know exactly what we were doing here in order to file a report to their superior, probably just to show that they were working diligently. At the exit of the mausoleum we are approached by a shy Iranian high school student who asks for a picture of us. Finally, photos are taken with, and we exchange chewing gums and other small gifts! We escape into our car and continue to Myandobab, where we visit an old Kawanserei. These hotels were located along the main traveling routes of the Silk route about every 40 km, a day's journey on camels. We prefer to stay in a more modern air-conditioned hotel and continue to Mashhad. Mashhad is the Mecca for those who cannot afford it to travel to Saudi Arabia. Over 5 million Iranian tourists (pilgrims) visit the city during the summer months and you cannot imagine, how crowded this place is! The holy district of Mashhad is nothing compared to the Vatican in beauty and size. We cannot enter to the inner most parts, and are directed to the visitor center for non-Muslim, where a video film of the part closed to us is shown. This place is indeed impressive in size and splendor, even more so at night, when the whole palace is illuminated with lamps in 100 different colors, and sparkling glittering lights on the golden roofs of the mosques. Las Vegas is 2nd place in comparison!

Women and men are strictly separated and there are different entrances and building for each sex. Above her coat, Petra is also required now to wear a chador, which our guide is able to rent somewhere inside for her. At over 40 °C in the shadow this is not a very pleasant experience.

In the evening we accidentally drop into a wedding feast in a restaurant. Men and women celebrate separately; the women even wear a chador. The groom and bride sit with the women, and the bride is the only person not disguised into the black veil. Approx. 500 persons are present, a small wedding for Iranian custom. Usually, all friends and friends of friends must be invited and wedding parties with more than 2000 people are common. The tradition requires that the man's family pays for the wedding and buys enough clothes and an adequate amount of gold jeweler for the bride. The bride's family in turn has to provide for more practical things for the newlyweds: refrigerator, kitchen, stove (the Iranian apartments are rented without kitchen installations), iron, beds, tables, etc. Quite a fair division!

From Mashhad, we drive to the Iranian/Turkmenian border post of Gaudan, a border that is not supposed to be used by foreigners. The border mostly seems to serve large trucks and lorries, which hardly make their way up the windy, steep and narrow roads in this mountainous region, to smuggle products in large quantities into and out of the country.

Crossing a few miles of no man's land, we reach the Turkmen border post, which is controlled by Russian soldiers. They check our passports with great interest and proceed with the opening of our entire luggage. Normally, every one is required to put a few dollar notes into his passport in order to escape the painful checking. However, we are ignorant of this rule and finally get around with the help of an Iranian working for the Dutch embassy in Ashchabat, who obviously has good connections with the border officials. The same rule applies for the lorry drivers. The inspection is halted if a white enveloped is handed over to the inspectors while they are taking their seats right next to the driver in the lorry after a few words are exchanged. Those not willing to pay face long hours of inspections and fines for small irregularities in their papers. Not a very effective way to prevent smuggling of goods and drugs that are known to pass over this border frequently.

Altogether we are impressed by the cultural richness and the hospitality we have met in Iran: deeply religious life, traditional handicraft, marvelous cultural heritage and also delicious food, albeit not in great variations. In Mashhad, we eat for the last time grilled chicken with Safran rice and drink Iranian Fanta.