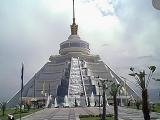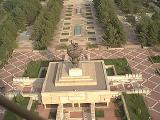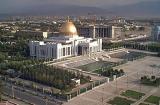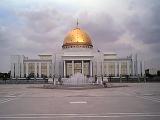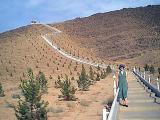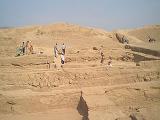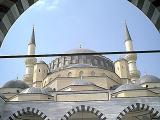 Turkmenistan mainly consists of deserts. With only 5 million inhabitants it is one of the most sparsely populated countries in the world. Since its independence from Russia in 1991, Saparmurat Nyazov, a former Communist party leader, acts as head of state, president of the parliament, and prime minister at the same time. Turkmenistan is officially listed as a parliamentary democracy! The leader calls himself Turkmenbashi, leader of all Turkmen. His presidency has recently been granted for lifetime with great applause of the population. Elections would be useless anyway, as there is only one party allowed and his last elections was won with a stunning 99.9% support of all votes. Turkmenbashi's face is visible on gigantic posters hanging on every building of the city and statues of his are placed on almost every square. Even Lenin would envy him!

Ashchabat abounds in gigantic governmental buildings, monuments, palaces and hotels all recently built with foreign help (mostly from Turkey) and money from the sale of oil. In the outskirts of the capital each Ministry possesses its own hotel. All are located just next to each other, and each boosts more luxury and splendor than its neighbor. Whether there are any guests using these 23 hotels remains unknown to us, as we are not even allowed to enter.

There are no remnants of older buildings as a devastating earthquake had destroyed the old city in 1948. Ruins of the 2500-year-old city Nisa are located about 20 km outside of Ashchabat. In Nisa we meet a team of Italian archeologists digging in the heat for some remaining tools and other pieces of evidence of an ancient civilization. The city is believed to have been founded by Alexander the Great, however, not much is really remaining.

Right next to the excavation site lies what is probably the longest and most useless stairs of this world: 21 km long, made of concrete, covering desert hills and valleys, and illuminated with millions of lights at night. At 8 o'clock in the morning, the heat is already too much to climb more than a dozen of the stairs. During summer months, temperatures rise regularly above 45 C in the shadow, and probably much more on these stairs in the middle of the desert.

In the afternoons, we seek shelter in the swimming pool of our hotel, another quite splendid new construction with all comfort. Later we dine in a recently opened shopping center with marble floors and ceilings. What a contrast to the brick and mortar buildings where most people live. The average monthly income in Turkmenistan is just above 30 USD per month and only a few rich can afford to shop in the newly built shopping centers. Outside the capital in rural areas, people live like in the Middle Age with donkeys and horses being their main means of transportation.

Another example of the gigantism of the government is manifested about 20 km outside of Ashchabat, where dozens of gambling halls and casinos have opened their doors. It is reported that the son of Turkmenbashi has lost there millions of dollars. The casinos all belong to the state (Turkmenbashi) himself and therefore, no money is really lost when his son is gambling at home.

On the train towards Charchou and Uzbekistan, past large sand and stone deserts, we talk with some Turkmen mountain peasants who report about their hard life at the boundary of Turkmenistan to Afghanistan and Uzbekistan, a large cultivation area of poppy. They seem to be content with Turkmenbashi at least, as the government now pays the pensions punctually, and all women get a new dress for Independence Day. Also, all school children get a watch for free. Guess who is depicted on its cover? Long live Turkmenbashi.