Moscow State University Campus Map
Campus area and map of Moscow State University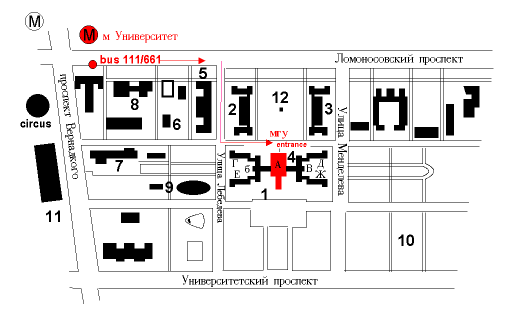 Legends:
Main building of

MGU

Department of physics
Department of chemistry
Main entry to

MGU

Learning facilities
Old so known CafeMax internet center
medical center
Sport facilites
Botanical garden
Musical theater
Monument of M. Lomonosov
The MGU guest hostel is located in the main building (zone E, 6/7th floor). There is a entrance right from 'uliza Lebedeva'. Buses stop in front the main entrance, however.
Not far from MGU (3 bus stops, on Lomonossovski prospekt) is the Hotel Universitetskaya, that offers accommodation in comfort and simple rooms at attractive prices.
Description of MGU with real photos
Official homepage of MGU
Directions to reach Lomonosov University (by car or by bus)
From the airport: take a taxi outside the airport (only with official signs) and indicate that you would like to go to 'Moscow State University, MGU'. Prices for a single ride from the airport is anywhere between 50 and 80 USD depending on the day of the week and the type of car (Sundays and late hours are more expensive). The ride should last about 40 min, however, during rush hour, it could take you as much as 2 hours to get to the university. There are also the buses connecting airports to the metro (if you travel from Sheremetievo airport, the station is Retshnoi Vokzal if you leave from airport Domodedovo you will arrive to the station Domodedovskaya). From there you can take the metro (red line) to the station 'Universitet'. Across the street called 'Lomonosovsky Prospekt' is a bus stop, and buses Nr 1, 113 (3 stops) and Nr. 119 and 661 (2 stops) will take you directly to the entrance of the main building. Traveling from Sheremetevo airport to the MGU with public transportation will take you about 1.5 hours and is quite inconvenient, especially if you have lots of luggage. From the newer Domodedovo Airport, the transfer is longer (2.5 hours) and is not more convenient by public transportation either.
We recommend you to book a transfer from the airport to MGU when you arrive. Our representative and driver will await you at the airport right after you passed the customs and drive you to the unversity or your host family. Especially if you arrive late or on Sundays, you will have difficulties to get into the MGU campus alone.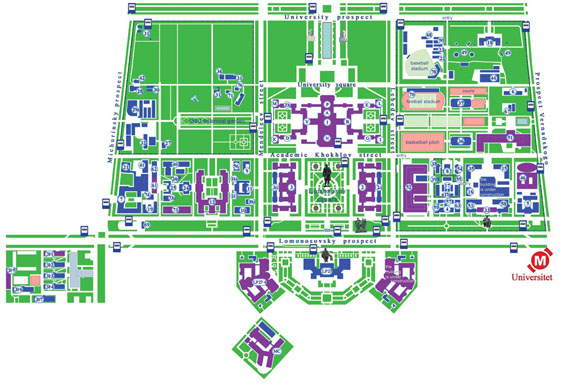 1. University Main Building:
University administration (Sector "А", 9 floor)
Faculty of geography (Sector "А", 17-21 floors)
Faculty of geology (Sector "А", 3-8 floors)
Faculty of mechanics and mathematics (Sector "А", 12-16 floors)
Cultural center (Sector "А", 2 floor)
Dining-rooms
Lyapunov French-Russian centre for applied mathematics and IT technology (Sector "Е", 1 floor)
Management of the hostel (Sector "B", 1 floor)
Massmedia centre of

MSU

(Sector "А", 10 floor)

MSU

technology transfer centre (Sector "B", 2 floor)
Museum of earth science (Sector "А", 28 floor)
Research and educational center of computer modeling and safe technologies (Sector "B", 2 floor)
Russian-German institute of science and culture (Sector "B", 2 floor)
2. Building of the faculty of physics:
Bogoliubov institute for theoretical problems of microphysics
Faculty of physics
Scobeltsyn nuclear physics institute
3. Building of the faculty of chemistry:
4. Research computing centre
5. Scobeltsyn nuclear physics institute
7. Institute of information security issues MSU institute of mechanics
12. Biology and soil building:
Centre for inservice training for specialists in environmental studies
Faculty of biology
Faculty of soil science
Institute of environmental soil science
International research centre for biochemical technology.
15. Printing office
18. Shternberg astronomical institute
21. Institute for information security issues MSU institute of mechanics
27. Meteorological station
29. MSU science park
33. Building of the faculty of sociology:
Faculty of sociology
Faculty of military training
36. Sport Arena
37. Sport building:
Department of physical education
40. Laboratory building A:
Belozersky research institute of physico-chemical biology
44. Dining-room №8
46. Building of the faculty of economics:
51. First humanities building:
Faculty of global processes (11 floor)
Faculty of law (6 floor)
Faculty of philology (9 floor)
Faculty of physical chemistry (4 floor)
Faculty of world politics (5 floor)
Graduate school of innovative business (faculty) (5 floor)
Interfaculty department of mathematical modelling and computer science (4 floor)
Institute of world cultures (8 floor)

MSU

confucius institute (5 floor)
School of contemporary social sciences (faculty) (4 floor)
School of state audit (faculty) (4 floor)
School of television (faculty) (6 floor)
School of translation and interpretation (11 floor)
52. Second humanities building:
Centre for intensive language instruction (3 floor)
Centre for social sciences (4 floor)
Faculty of computational mathematics and cybernetics (6-7 floors)
Faculty of educational studies(2 floor)
Faculty of further education (8 floor)
Preparatory department (1 floor)
School of business administration (faculty)
53. Polyclinic №202, pharmacy
56. Dining-room №10
59. Dining-room №14
61.Graduate school of public administration:
Moscow school of economics
62.Building of nonlinear optics
International laser centre
70. Football stadium
73. Laboratory building B:
Faculty of bioengineering and bioinformatics
Faculty of materials science
Graduate school of management and innovation (faculty)
Dining-room
74. Archives of MSU
78. Baseball stadium
LP27. MSU main library building (27, Lomonosovsky prospect):
History museum of

MSU

Science library
LP27-4. First humanities building on new territory (27, Lomonosovsky prospect, Bld.4):
Faculty of history
Faculty of philosophy
Faculty of political science
Faculty of public administration
МC. MSU medical center
31-1. Faculty of foreign languages and area studies (31, Lomonosovsky prospect, Bld.1)
31-5. Faculty of fundamental medicine (31, Lomonosovsky prospect, Bld.5)