Moscow maps
Moscow, a city of 12 Mio people, is the capital of Russia (map of Russia). Moscow State University (MGU) named after the famous poet and scientist Mikhail Lomonosov is located in the middle of a huge park at the outside the city center on the former Lenin hills, on the shore of the river Moskva. A 20 min. metro ride connects the campus (metro station 'universitet') to the red square. The main building is more than 600 feet (200 m) high and was built after Word War II in the typical Stalinian style.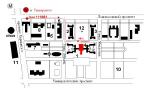 Campus map of MGU with directions.
On the campus, you will find sport facilities, libraries, magazines, kiosks, banks, hairdressers, cinemas, theaters and swimming pools. As a participant of our language courses at MGU, you will officially be a student of MGU and benefit from numerous student discounts and offers. Safety is very important to the 30,000 students and staff of MGU coming from more than 100 different nations. Guards at each entrance of a building make sure that only people with proper campus identification cards can enter.
Take a virtual tour from the University, 360° view of the MGU State university tower.
Downtown Moscow map and Moscow Metro stations map: