Group course in Moscow
Russian language courses – group programs in Moscow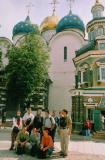 Group courses in Moscow with 20 lessons per week start every week on Monday. For beginners and intermediate levels, maximal 6 participants per group (you can join for 2, 3, 4, 8 or 16 weeks)
We are inviting students (at beginner and intermediate level) for group courses at Moscow State University. The course will be tought by experienced teachers of Moscow State University and the group size will be limited to maximal 6 students. Emphasis is on getting to know the basics of the Russian language (grammar and phonetics) and to be able to speak Russian in simple conversations. No prior knowledge of Russian is required, however familiarity with the cyrillic alphabet will help.
The following services will be included in the price: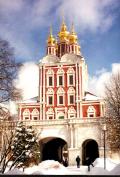 Guided tour of Moscow State University, Russia's leading educational establishment, incl. several of its museums
Walking tour of the historic Center of Moscow, incl. a visit of the Kremlin
Home stay with carefully selected Russian family in Moscow incl. breakfast or accommodation at

MGU

student guest house
Student party
Textbooks and Reference Materials
Student ID allowing for numerious student discounts nationwide
Map of Moscow
Certificate of attendance and russian level

Visa support
Support and Services by our office in case of need
Excursions to other main sights in Moscow (e.g., Tretyakov Gallery, Kolomenskoe, Danilov will be organized upon request.
Read more info about the city of Moscow sightseeing.
For application, please use our Application Form and select "group course", "homestay accommodation with Breakfast" and the above dates. You can also contact us if you have further questions.
We regularly organize 2-days excursions to Petersburg and the Golden Ring on weekends, where all students are invited to join: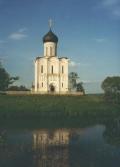 Excursion to Sergiyev Posad (formerly Zagorsk), the capital of the Russian Orthodox church with the Holy Trinity St. Sergius Monastery (1 day, return in the evening)
Excursion to Sankt Petersburg (2 days, Visit of the The Hermitage Museum, Pushkin and Pavlovsk, including a folklore concert in Nikolayevsky Palace)
Excursion to the ancient Russian cities of the Golden Ring: Vladimir, Suzdal and Sergiyev Posad (2 days)

City tours include: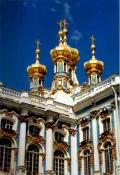 Railway tickets
Accommodation in middle class hotel
2 meals a day
Sightseeing program
A ride on a horse-drawn sledge (in Suzdal)
Organisation and application is done on place, the cost will depend on the number of participants and is approx. EUR 30 for the visit to Sergiyev Posad (Zagorsk) and EUR 200 per person for the 2-days city tours.
If you wish to continue your journey on the Trans-Siberian, we are happy to help you organize an unforgettable trip. Check our individual or group tours on the Trans-Siberian