Russian courses at Moscow State University (MSU)
Introduction to our Russian language courses in Moscow at
MSU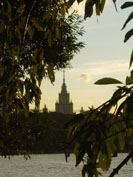 We would like to invite you to learn the Russian language at the famous Lomonosov Moscow State University. Lomonosov University is the largest and oldest university in Moscow and Russia, founded in 1755 by the poet and scientist Mikhail Lomonosov. Today, more than 30'000 students are enrolled in 16 different faculties. For more detail about Russian culture and facts read our pages: history of Russia or key facts about Russia and Moscow sights.
MGU was the alma mater of many famous artists, politicians and scientists, such as Mikhail Gorbachev or Jegor Gaidar. The campus is beautifully located in the middle of a huge park at the outside of the city centre on the former Lenin Hills, a 15 minute metro ride from the Red Square (maps and directions to MGU). The main building is 240 meters high and was built after Word War II in the typical Stalin style. The large "campus": includes many libraries hosting more than 6 million books, magazines, internet cafés, kiosks, banks, hairdressers, cinemas, theatres, and sports and leisure facilities.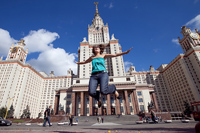 MGU offers courses at all levels. Subjects can be chosen from standard grammar, conversation, phonetics, or literature to more specialized subjects such as Russian for scientists, teaching Russian, Russian law, business Russian etc. All teachers have many years of experience with foreign students wishing to learn Russian language. Every year, more than 300 students from countries all around the world enroll in our Russian language courses.
To learn Russian, we highly recommend individual classes which guarantee maximum efficiency and allow specific focus on your needs. You can also join a group class if you prefer to have contact with other student. A certificate of Russian level is delivered to all participants upon completion of the program. We offer two types of courses: standard (group and individual tuition) and specialized (individual tuition only).
Standard courses will give beginners the necessary Russian language skills for its practical use. Emphasis is laid on conversation. Medium and advanced students will get the necessary training to improve their command in both oral and written form. See our examples of programs for more details.
Individual Russian Classes in Moscow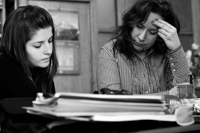 We strongly encourage you to take individual classes where the program is tailored to the needs of the student by the teacher. One-on-one tuition guarantees fast progress through an optimal focus on needed language skills. You can take any number of lessons you need to or we offer different program options for individual Russian course intensity, each lesson last 45 minutes :
Leisure 15 lessons per week
Normal 20 lessons per week
Intensive 25 lessons per week
Master 30 lessons per week
We also offer special individual courses for Businessman wishing to learn Russian for business purpose.
Group Russian Classes in Moscow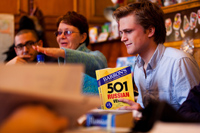 Group lessons begin every Monday throughout the entire year but total beginners start on specific dates only (see bellow), classes are given on a basis of 20 lessons per week, each lessons last 45 minutes, they start at 10am and ends at 2pm. Upon your arrival your knowledge will be tested in order to assign you to the appropriate mini-group level. If you already have reached certain level of Russian language you can start your classes at any convenient time.
Group for total beginners start only on the following dates:
9 January 2017
30 January 2017
27 February 2017
27 March 2017
24 April 2017
29 may 2017
3 July 2017
31 July 2017
31 August 2017
2 October 2017
30 October 2017
4 December 2017
During Official holidays day, 1-8 January, 23-24 February, 8 March, 1 May, 8-9 May, 12 June, 6 November, no classes are given and you will get the lost hour dispatched on other days during your journey.
The maximum group size is usually six students (in summer ten due to high visits). For each group, an individual program is set up according to the needs of the group Russian course. You can change the group during your stay if you learn Russian in Moscow faster. See our examples of Russian language course programs for more details.
Normal 20 lessons per week
Number of Lessons per Week
We recommend you to take at least 20 lessons per week to facilitate your immersion into the Russian language and culture. If you prefer to have more spare time, we offer a leisure program with 15 lessons per week, that leaves you free afternoons for studies or excursions. Subjects offered are grammar, phonetics/intonation, conversation, analytical reading, and Russian literature. Students can also view Russian featured films once a week or work in the language laboratory. The individual program are discussed with the teacher on the first day after an entry-level test to assess your Russian language knowledge.
Did you ever want to learn how to write Russian letters?
Or are you curious about Bulgakov, Gogol, Lermontov, Pushkin and others? Then see our Russian literature section. We will teach you everything you wanted to know…
In general, classes will be from 10 a.m. to 2 p.m. and/or from 4 p.m. to 6 p.m., 5 days a week from Monday through Friday. There are some public holidays, where no classes are held unless explicitly required, in which case they are compensated on other days. Lessons are 45 minutes each, usually with a 15 minute break after two lessons. All Russian classes are held on the campus in designated class or study rooms. There is a significant amount of homework and preparation required for individual classes, so 25 lessons per week will keep you pretty busy. Homework is usually 5-10 hours per week, depending on your goals. If you'd rather have more excursions or a more relaxing program, please take advantage of our "leisure program" with 15 lessons per week. Let us know if you have special requirements. We can always adapt to your needs!
Duration of your stay
From numerous experiences we have learnt that the minimal time you will need to get acquainted with the new environment is two weeks. However, if time permits, we strongly recommend you to stay for at least four weeks. It goes without saying that the longer you stay, the more progress you will make. Beginners will need six to twelve weeks in order to develop the language skills necessary to communicate in everyday situations and to be able to read and understand texts. Keep in mind: Russian is a complicated and difficult language to learn for foreigners and you will need to work hard to progress.
It is best to be familiar with the Russian alphabet prior to your arrival. This will facilitate your immersion into the Russian culture, and it is in fact an easy task. Study material is available in any bookshop and the teacher will give you the necessary means to buy the book you need. Check out our on-line bookshop.
SPECIALIZED

RUSSIAN

COURSES

For teachers, journalists, business people, diplomats, lawyers, scientists, etc…

Specialized courses are designed for professionals seeking specialized knowledge of Russian terms and jargon used in their fields. At least medium to advanced Russian level knowledge of Russian is necessary to enroll in specialized classes. The following choice of subjects is available: business Russian, Russian law, teaching Russian to foreigners, Russian for diplomats, writing modern Russian, grammar, phonetics/intonation, spoken Russian, conversation, literature. By relying on the best university staff and experts in their field, we can guarantee high quality training. Often, professional advice can be given at a fraction of the cost of a consultants! For larger groups of 6-10 people, we can also provide tailor made group business courses together with MIIT. Please contact us for an individual offer if you plan to take a business Russian course.
Russian knowledge requirement for semester study at Moscow State University
Students wishing to use their Russian language knowledge for further studies in Russia or to enroll in Moscow State University are offered special preparation courses to pass entrance examination tests in Russian required for foreign students. MGU has more than 2'000 foreign students from 70 countries enrolled in its 16 different departments. We would be pleased to help you enroll in this prestigious place of study (minimum length of stay is 9 months, classes run from 9/1-6/1 as a spring and fall semester).
If you need credit for Russian language courses, talk to your department/school. Moscow State University is one of the leading educational institutions in Russia and Moscow, so credit approval is usually not a problem. If you need help regarding this matter, we would be glad to contact your supervisor/school to provide further information. We have a list of resources to apply for scholarships, however, we personally do not provide scholarships.
Test of Russian as a Foreign Language
TORKI

/

TORFL

All students are invited to pass the TORFL or TRKI (Test of Russian as a Foreign Language) at the testing centre at MGU. This test is somewhat equivalent to the TOEFL test of English speakers and highly recommended for students who wish to apply for jobs in Russia or in Russian academic institutions. There are five levels. Non-native Russian speakers with basic knowledge at the beginning of a language course should be able to achieve level 2 after three months and level 3 after a year of intensive study. See a description of the levels of Russian and the specific requirements. This may also help to assess your level before applying.

As an official agent of Moscow State University, we also offer you to continue for a semester studying at MGU. You can enrol directly into any of the 21 departments of MGU via our web page.
You may consider also our other destinations to learn Russian: