Russian Courses programs in Odessa
All teachers have a long experience in teaching Russian to foreigners and all speak at least one foreign language (English, French or German). The Russian teaching method is based on total immersion, only Russian is spoken during the course. Classrooms are bright and luminous and equipped with modern infrastructures. A small cafeteria and a meeting room are at the disposal of all students. As you can see below, a large range of Russian courses in Odessa are available. We are sure you will find the one that fits to your needs! Russian Courses are tought in the morning session from 10.00am or in the afternoon session from 14.00pm. A lessons goes 45 minutes (one academic hour).
Individual Russian courses in Odessa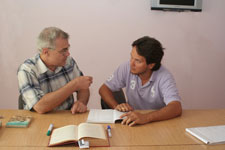 We recommend you to follow individual courses. You can follow standard courses of 20 lessons per week or intensive courses of 30 lessons per week. Individual tuition allows you to choose your program together with your teacher, who can adapt his course to your needs and your own rhythm. This is the best option to reach your goal fast and learn Russian efficiently.
Group Russian courses in Odessa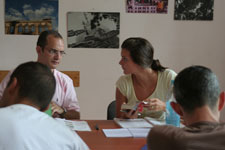 You can also follow Russian group courses (max. 6 students) that are given on a basis of 20 lessons per week. The russian group classes start every monday, on the first day each student pass a level test in order to define witch group class suits the best. These Russian courses are available if there are enough interested participants with the same level of Russian, if not so you will be proposed individual tuition at an equivalence. The best way to take part in a Russian group course in odessa is to come with friends!
Special russian courses programs in Odessa
Russian for Businessmen courses
Our Russian language school in Odessa also offers business Russian courses for businessmen at the same price as the standard and intensive individual Russian courses. Lessons last 45 minutes and are given in amount of 30 or 20 Russian lessons per week. This course allows businessmen to choose the subjects and the fields they wish to study themes based on Commercial Russian vocabulary, Russian negotiations, Russian business and law are offered.
Russian and Ukrainian history, litherature and cultur courses
This is special course of 20 hours per week. It is based on Russian and Ukrainian art and history, and available for students at advanced language levels. Based on the same rates as Individual courses prices.
Russian Teachers training course
Teachers training courses are available for teachers of Russian coming from foreign countries that would like to imporve their knowledge. Based on the same rates as Individual courses prices.
Russian Summer course
The Russian summer courses are available during the summer period from June till September, every secound monday for 2 weeks. They give students an opportunity to combine Russian studies and holiday relaxation, in the pleasant seaside atmosphere of southern Ukraine, Odessa. Based on Group courses of 20 lessons per weeks including some specials excursions and guided city tours. Ask us for current starting dates classes.
Exams and Certification of Russian langage level
TORFL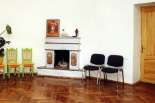 During the first lesson, you will be asked to complete an assessment in order to determine your level of knowledge. A second test is offered during the last lesson, allowing you to measure your progress. At the end of the course, students receive a certificate with the kind of course they followed and their level of Russian. Students can also ask to pass the offical TORFL, the Russian equivalent of the TOEFL.
Duration of your stay
We have learnt from our numerous experiences that the minimal time you will need to get acquainted with the new environment is two weeks. However, if time allows, we strongly recommend you to stay for at least four weeks. The longer you stay, the more progress you will make, obviously.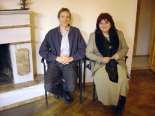 Beginners will need six to twelve weeks to develop the language skills necessary to communicate in an everyday situation, and to be able to read and understand texts.
Keep that in mind: Russian language is a complicated and difficult language to learn for foreigners and you will need to work hard if you want to improve quickly. We require you to be familiar with the Russian alphabet before your departure. This will facilitate your immersion into the Russian culture, and it is, in fact, an easy task.
Study material
Teaching material is included when you book with us, you can also find some interesting textbooks available in any bookshop (check out our own online bookshop).
You may consider also our other destinations to learn russian: