Russian Courses programs in Kaliningrad
The professors have a long experience in teaching Russian to foreigners and speak all at least one foreign language (English, French or German). They use a method based on immersion, speaking only Russian during the classes. We are happy to offer you a large choice of russian language classes, individual or group tuition. Our Russian lessons lasts 45 minutes each (academics hour).
Individual Russian courses in Kaliningrad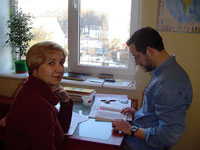 You have the choice between a standard course of 20 lessons per week and an intensive course of 30 lessons per week. Each lesson lasts 45 minutes and you have a break after two lessons of 15 minutes. Individual class allows you to get the ideal tuition, according to your needs and your level. You are totally free to determine the course length. The program of the russian course will be adapted to suit your personal preferences and goals, from Russian alphabet to litherature from Dostoyevsky or business trade negotiations with Russian partners!
Group Russian courses in Kaliningrad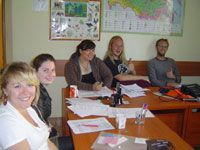 You can also follow group lessons in groups of maximum 6 persons, including 20 lessons per week. These courses are available if there are enough interested persons with the same Russian level, in order for you to get the best teaching. Courses begin every Monday. On your first day you will have a Russian knowledge test in order to join the appropriate group. Russian group tuition in Kaliningrad is a nice way to learn Russian and meet other people from all around the world. Each lesson lasts 45 minutes and you have a break after two lessons of 15 minutes.
Special russian courses programs in Kaliningrad
You need to refresh your business Russian? You are looking for Russian partners and wish to communicate in Russian? You need to train your foreign managers for an assignment in Russia? Our Business Russian courses are designed especially for businessmen. This course allows you to take up to 30 lessons per week. You can choose the topics, Russian law, trading, negotiation in Russian you wish to study and organize your tuition according to your specific needs. Your can choose to either take group or individual courses.
Beside the individual courses, we arrange two yearly seminar oriented in Business Russian communication the dates in 2017 are:
Russian Business School I: May 14 – May 25
Russian Business School II: Oct 8 – Oct 19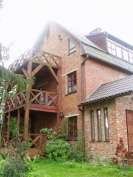 For those who want to come and spend their summer in Kaliningrad and learn Russian, we propose different summer courses during three weeks in June, July or August. Classes include 20 lessons per week on a base of 4 classes per morning. Accommodation is included in the summer packages. Please contact us if you wish to have more details.
Dates in 2018:
Summer school I: Jun 04 – Jun 22
Summer school II: Jun 25 – Jul 08
Summer school III: Jul 11 – Jul 29
Summer school IV: Aug 02 – Aug 20
This course takes place once a year. Available for students who are interested in Russian language, as well as Russian culture and traditions. You will get an introduction in Russian art, as well as learn how to behave in different situations you will face during your journey in Russia.
Dates in 2018:
Russian culture School I : Feb 05 – Feb 23
If you want to improve your language and learn how to cook Russian specialiaties, we organize special 2-weeks course of Russian cooking and bakery right before Christmas & New Year holidays!
Course dates 2018:
Dec 9 – Dec 21
Special courses learn russian in Kaliningrad
If you want to combine holidays and courses, you can also take lessons in one of the coastal resorts of the Baltic Sea, like Svetlogorsk. Do not hesitate to ask for an offer.
Exams and international certification
TORFL
During the first lesson, you will pass a test in order to determine your level of knowledge. A second test is offered during the last lesson, allowing you to measure your progress. At the end of the course, each student receives a certificate with the kind of course he followed and his level of Russian.
You can also prepare and pass one of the levels of the TORFL. This test is equivalent to the TOEFL test of English speakers and highly recommended for students who wish to apply for jobs in Russia or academic institutions. Non-native Russian speakers with basic knowledge at the beginning of a language course should be able to achieve level 2 (advanced) after five months and level 3 (proficiency) after a year of intensive study.
Duration of your stay for an ideal russian course in Kaliningrad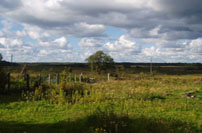 We have learn from our numerous experiences that the minimal time you will need to get acquainted with the new environment is two weeks. However, if time allows, we strongly recommend you to stay for at least four weeks. The longer you stay, the more progress you will make, obviously. Beginners will need six to twelve weeks in order to develop the language skills necessary to communicate in an everyday situation, and to be able to read and understand texts.
Keep it in mind that the Russian langage is a complicated and difficult language to learn for foreigners and you will need to work hard on your progress. We require that you are familiar with the Russian alphabet prior to departure. This will facilitate your immersion into the Russian culture, and is, in fact, an easy task. Study material is available in any bookshop (check out our own online bookshop).
You may consider also our other destinations to learn russian: