Accommodation in Moscow
Campus Rooms at Lomonosov-University Moscow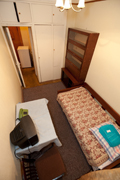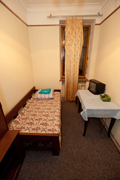 We offer rooms in the MGU guest hostel, which is part of the main building on the university campus (see map of the MGU campus with locations). All rooms have a separate shower and toilet. For short or long term accommodation, students can stay at the MGU Student Guest House, which works like a hotel. See a more detailed description of the University guest house campus with pictures.
Some rooms have spectacular views on downtown Moscow, about 10 miles away. Inquire early for reservation, as rooms are high in demand, especially during summer time. Each floor has its own kitchen and a meeting room for conversations and discussions. Furthermore, there is a reception desk on each floor (open 24/7) to ensure maximum convenience and safety. The MGU University Campus is considered a very safe place with strict entry control (you need a student card and a "propusk" to enter the gate of the campus and the guest hostel). To have further information about security, read the posting about security on our message board.
Living with a Host Family in Moscow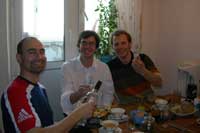 If you would like to live with a Russian family, we can offer homestays in the neighborhood of MGU. Students take accommodation in a single private room with access to bathroom facilities, kitchen, phone, television, and sometimes internet. You can choose to include breakfast or not, and additional meal can be paid localy to the family. All our families have links with the university. The best way to practice Russian is to stay with a family. All our guest families hosting students live near a metro station or bus station. Homestay accommodations have been visited and carefully chosen. Students are offered all the necessary conditions for resting and studying. You can decide whether or not to enjoy the daily life of the host family, without obligations. You are free to change your host family at any time should there be any reason for you to decide to do so.
Hotel in Moscow
A viable alternative is the Hotel Universitetskaya located some 10 minutes from the main MGU University Campus (simple standard rooms for a cheap rate). If you prefer, we can also book a room at one of the more centrally located hotels in Moscow (we recommend Hotel Akademicheskaya, Hotel Zolotoi Kolos or Hotel Arbat). FOr other alternative see our hotel in Moscow and Russia page.
Private Apartment Rental in Moscow
If you are looking for privacy, a self-catering apartment might be the best choice for you. We can find a flat for you and your friends in different locations around the city centre of Moscow. Apartments in Moscow are fully equipped with a kitchen, bed linens, a television, internet (cable / wifi) and a internatinal telephone line most of time FREE.
And if you prefer, you can have your language course conveniently organized at your own place. Weather you have a seminar room at your local partner company if you are on business trip in Russia, your own apartment in Moscow or hotel, our teacher are ready to move.
Food and drink at the University campus
There are four university cafeterias that offer breakfast and diner from 8 a.m. until 8 p.m. Typical Russian dishes such as soup, fish and meat are being served as well as western European like meals. Prices are moderate at 3 to 5 USD for a main course. Quality has improved a lot over the last years and is comparable to Western university cafeterias. In a newly opened restaurant and in some cafes, you can find high quality food with good service, but significantly more expensive. Check out our tips and tricks page.
Every two weeks, our local partner Farid Valitof invites all students for the Ziegler & Partner Student dinner and welcome vodka party at a nice café in the MGU. It is a great occasion to meet other persons from all over the world and to welcome new students. A shot of vodka and typical Russian dishes help great friendships to born! Apply once you are in Moscow don't miss it!